Presentation Arte Contemporanea in Indonesia at PAN, Naples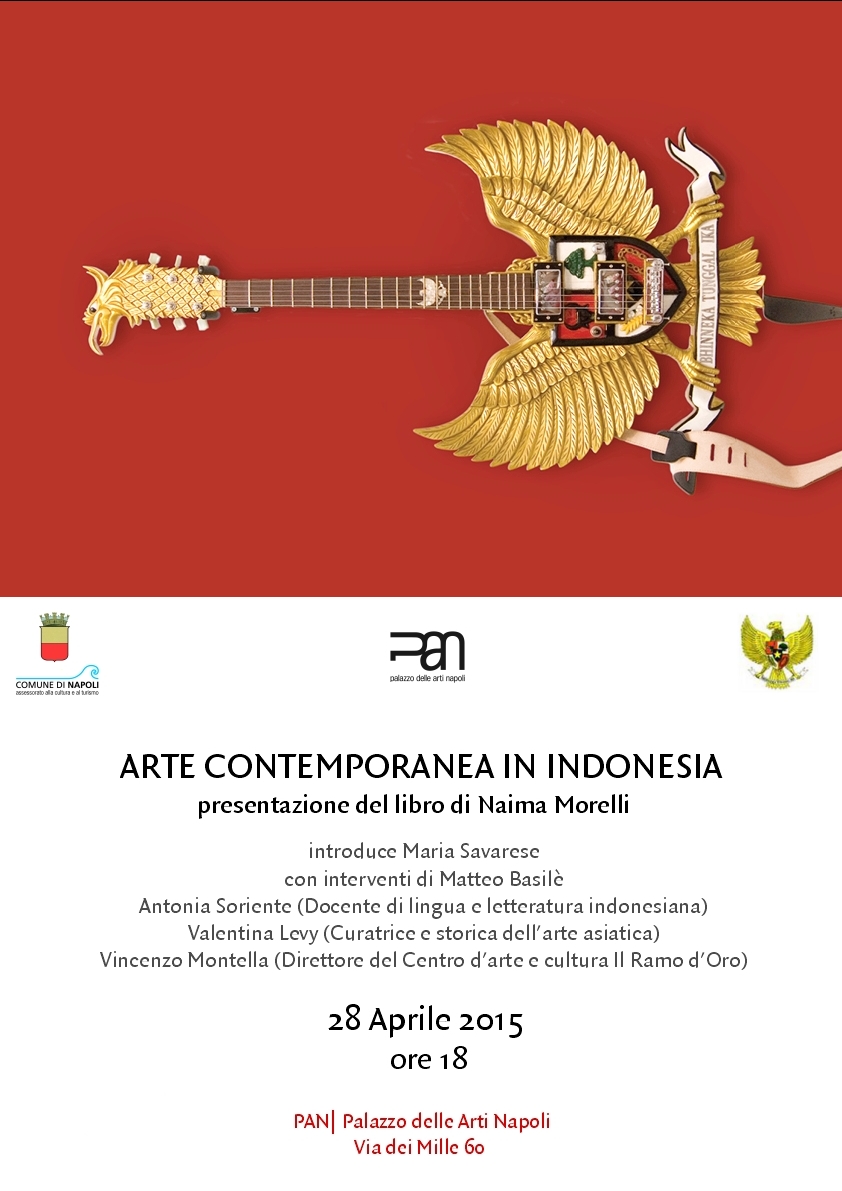 Tuesday, April 28 at 6pm PAN | Palazzo delle Arti Napoli will host the presentation of the book  "Arte Contemporanea in Indonesia, un'introduzione" by Naima Morelli. The presentation, supported of the Consulate General of Indonesia in Naples, will be introduced by curator Maria Savarese with the partecipation of Matteo Basilé, Antonia Soriente, Professor of Language ​​and Literature at the University of Indonesia L'Orientale of Naples, Valentina Levy, curator and Asian art historian and Vincenzo Montella, director of the center of art and culture Il Ramo d'Oro.
The book is an introduction to Indonesian contemporary art, which now occupies a prominent place in the international art scene, from both a market and cultural standpoint. Placing itself in the dialectic between the global and the local, the book analyzes how in Indonesia the cultural, artistic, political and social context have influenced four generations of artists. The author guides the reader in the contemporary art places in Yogyakarta, Jakarta, Bandung and Bali, looking for the answer to the question: is there really something called Indonesian contemporary art?
ITA
Martedì 28 aprile alle ore 18 il PAN| Palazzo delle arti di Napoli ospiterà la presentazione del libro di Naima Morelli "Arte Contemporanea in Indonesia, un'introduzione".
Alla presentazione, patrocinata dal Consolato d'Indonesia a Napoli ed introdotta dalla curatrice Maria Savarese, parteciperanno Matteo Basilé, Antonia Soriente, docente di Lingue e Letteratura Indonesiana all'Università L'Orientale di Napoli, Valentina Levy, curatrice e storica dell'arte asiatica e Vincenzo Montella, direttore del centro d'arte e cultura Il Ramo d'oro.
Il libro è un'introduzione all'arte contemporanea indonesiana, la quale oggi occupa un posto di rilievo nella scena artistica internazionale, sia dal punto di vista della proposta culturale che del mercato. Collocandosi nella dialettica tra globale e locale, il libro analizza come in Indonesia il contesto culturale, artistico, politico e sociale abbia influenzato quattro generazioni di artisti. L'autrice guida il lettore nei luoghi dell'arte contemporanea a Yogyakarta, Giacarta, Bandung e Bali, cercando la risposta ad una domanda: esiste veramente una cosa chiamata arte contemporanea indonesiana?

Martedì 28 aprile ore 18 presso il PAN – Palazzo delle Arti Napoli (via dei Mille 60, Napoli)