THE SINGAPORE SERIES – CHAPTER 30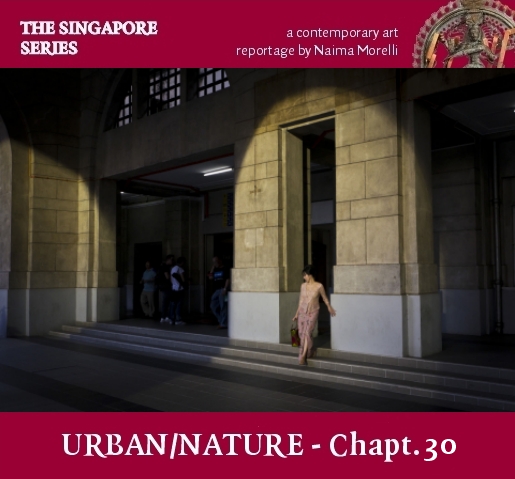 Adeline Kueh
"What gets measured gets managed," wrote Peter Drucker, the founder of modern management. And the struggle of measuring what is imponderable is one of the shapes that the contrast between bureaucracy and spirit takes shape. In this context, we have seen how there are those giving breath to a life in a country which is all about achievement and "getting there". If this attitude of bringing home results has proved successful for the city state, artists are those who need to rebalance the machine with a ghost. To give humanity to the clog.
Artist Adeline Kueh belongs to those who are able to give shape to feelings that you can't simply calculate on a spreadsheet. Her sensitivity is attuned to the appreciation of beauty, and she finds it in the memories, in the history of people, places and objects. I meet this pretty, tiny and brisk woman in the Lasalle cafè where she works as an art educator. Every project she starts comes from a personal place, and has memories and meaning attached to it. She looks with a romantic and poetic eye at themes which can be considered quite risqué (she loves to drop a French word here and there — perhaps from her living in Canada as a young student, perhaps from her wide-ranging readings).
"Some collectors, some patrons of the art say that my work is quite peculiar, especially the love hotel series. The work is about sex. It's about liaisons, and rendezvous… it's a little tricky to collect. They ask me why I can't make something nicer. But for me there is something very clear about where this sits in relation to prostitution, sexuality, management of sexuality."
This area of research is one that Adeline ventured on as early as 1999 and explored until 2003, with two other Singapore-based artists, Irina Aristarkhova and Margaret Tan. The three linked up with the feminist group subRosa in the US, a group of artists-activists who are also instructors and lecturers in academic institutions. It's lead by Faith Wilding and Hyla Willis.
"We were researching assisted reproductive technology in Singapore and all the things that are related to reproduction or regulation of the womb and sexuality. We would meet and have interventions and workshops in different cities in the world. We would meet in Hamburg or Amsterdam or Chicago and Singapore and whenever we meet, we would go to erotic museums and look at really lovely artwork (like Hans Bellmer's to whoever's in whichever city). After we stopped functioning as a group, it went dormant. I had a baby and after that, I thought I'd just carry on this interest with my own personal projects."
Intimacy, love and body politics remain a very strong concept in your personal work. I was wondering where this all started for you?
After my partner and I moved here to Singapore, we were bombarded by these campaigns saying that the fertility rate is dropping. Government bodies were encouraging graduates from university to have relationships — graduates with graduates would supposedly have intelligent babies. I was thinking… this is too much, you know? While Singaporeans were told to have more babies, we also started seeing a lot more street workers around. The last straw was that I injured my leg so I had to take a taxi every day and I realised that there were a lot of these transit hotels, or love hotels, those with one-hour to four-hour block booking. They seemed to spring up by the day, there were more love hotels around than schools. In Geylang you see brothels, right? The even number streets are brothels, the odd number streets are where the good food is. Where there is sex there is always good food, that's my theory (laughs). Because after your rendezvous you need to build up your chi, right? And it was quite an eye-opener to look at how prostitution is legalised in some parts of the city where the sex workers actually have green cards and heath cards to go for mandatory checkups. I contrasted this observation with the fact that the government is always talking about the fertility rate for the country and how it is dropping. So, on one hand you are asked to have more babies, but on the other hand there is no space for intimacy in Singapore. You have about eighty-five percent of the population living in the city in high rise apartments (the HDB or the council housing). The new ones are very small, very close together, and you almost always share with your parents or your grandparents, or your siblings because of the cost or eligibility to get one on your own. Where is then space for intimacy? That is why intimacy is a very strong concept in my work.
How did you translate these observations into the "Love Hotel" series?
The first edition of the "Love Hotel" was the first show between Lasalle and NAFA in 2010, and we had a long history but we had never worked together. We are rival art schools. So when that show was to happen between one gallery here and one gallery there, I kept thinking that what connects us and separates us is Middle Road. Then I always like to know the history of the places, so I was looking more and more and I discovered than in the late 1900s to before WWII, there were a lot of Japanese brothels here. So it fits in with the idea of the transit hotel. I love neons and hotels, so I decided to do façade using LED, as neon is bad for the environment. So the first two works were the love hotel. One was in Lasalle, the hotel in Lim Hak Tai Gallery. They were shining across time and space from the two galleries. And I liked it. It was my first attempt using drawing as a tool to link history and the present; as a way of collapsing time and space with the installations and/or objects.
The work had a very cinematic look. Where did you draw your aesthetic from?
I grew up being in the cinema a lot and I wanted to recreate this very filmic quality to my work, like a film director would. My grand uncle came into a lot of money, so he had a cinema in small town. He was one of the richest men in there. And my grand uncle married my grandfather's sister, who looked like Elizabeth Taylor. She was the first wife, he had many other wives after that. But as kids, during the school holidays my sister and I would be sent to stay with my grand aunt. This is the '70s and you don't get many places with air conditioning, so as kids it was lovely being inside the cinema and watching movies. In the old days, if you stayed close to a couple going into the cinema, they would have thought you are their child and it's free and easy. If there were movies that you weren't allowed into, one of my granduncle's sons would just go to the backdoor and tell the man to let us all in. We watched everything, there was no censorship. Anyways, in my Love Hotel series, I worked with photographers who would shoot me but I would also tell them where I want to be, how the shot should look like, and I would already know their palettes and their body of works.
In the following incarnation of the project of "The Love Hotel series" there is an even stronger cinematic idea, with the creation of your alter ego called Lulu. Can you tell me a bit about her?
It all happened during one of the dinner and dance events when I first joined Lasalle in '98. So Lulu is meant to be an avenue to be a bit crazier — Lulu is a failed movie star who now runs a love hotel to survive. She tries to keep the hotel, but life isn't easy and she can't renovate all the time. So this hotel is a bit stuck in the 70's, '80s kind of feel. The furniture was all mine. I have moved so much in my life, more than thirty times before I turned thirty. So there is a part of me that always wants to recreate the home. Over the years, I have taken and bought items that looked like what we had before in our home or in my grand aunt's house, and I refurnished them. In a way, their furniture that existed in my mind is now in my house. For the lobby, I brought my furniture in to recreate the love hotel lobby. So it's a continuation and I realised that by using found objects where I try to repossess them by giving them meaning though my own re-enactment, the memories and meaning-making are things that are continued through the passing of time.
Does the idea of moving furniture around relate in some way to the idea of home?
Yes. The question is always, where do I belong now? And I have not been home since I was eighteen. I go home from my holiday, but it's different. And I think about what Pico Iyer said: home is what you carry with you. In many ways, the furniture, the things that I do for my artwork, it's almost all recycled (where I can help it). For The Distance Between My Bed and Yours (2013), I used linen sheets I have slept in for fifteen years. It was very painful for me to cut my favourite bed sheet and to make it into a robe. And that one was very closely linked to the history of Middle Road and the Japanese brothels, because I had the robe made and I had the Japanese slippers on the floor. I actually re-made the thong of the slipper because I wanted to repossess it. When I don't know how to do something, I would pick something apart so when I want to put it back, I have to know the process. So that is what I did for the shows. I always repair, fix and make better maybe. A lot of this has to do with my mother being a seamstress. It is also about making something precious by imbuing it with meaning or giving a little part of yourself to the object.
It is the emotional value that you put into the object…
That is what artists do anyways, right? But it's just that I tend to like found objects a lot because as I get older, and also because studio space is so tough to find, I think there is no real need to make new things, but to take things that are already in existence and then re-assemble it (as per Duchamp's readymades).
And it is also in the spirit of the times I feel. We have the hypertechnologisation of our everyday objects on one hand, and on the other hand, people appreciate vintage objects because of their history.
Yes, and also the notion of upcycling. We have a lot of eco-conscious designers or artists. There is this notion that you recycle, but you give additional value to a very every-day, mundane object. History, the sense of place is important.
We can find a similar ethos also for your button projects.
That's right. I always played with the boxes of buttons that my mother had. She used to give us pocket money if we helped her sew buttons on skirts and pants. It was like 20 cents for a skirt or whatever. The box of buttons was always there — the buttons were all different, but were all unique and I always thought, what if buttons could speak! Because we wear what we wear and we go places. If they could speak, they would be so rich with stories. So I was curious: if I were to put out this project and people were to tell me where their buttons come from, I could collect the stories. I had four donation jars in different places in the city, and there are tags so that people could write what they want and tie it a button and drop it into the jar. In both editions that I did for the button project, people were so generous, and were able to really connect and enjoy the work. For me, this project was really about meaningful connections.
I'd like to talk about your photographic series "En passant", which has this beautiful, nostalgic narrative element to it. This is the first work of yours that I saw in the Singapore Eye catalogue. Can you tell me a bit of the story of this work?
My parents came for their honeymoon to Singapore and back then, you don't get to fly so often, so you travel up to Penang to Kuala Lumpur by train. My grandmother too came along for a holiday. There were quite a few photographs of their trips. One of them was a picture of my mother in a lace kebaya top and a batik skirt with seven pleats (or a fan pleat). That was in the sixties. In the mid nineties when I came to Singapore with my partner, I didn't have a permanent residency, so every few months I had to leave the country. So I used to go up to Kuala Lumpur or other parts of Peninsula Malaysia where my sister was based. I would go up and down by train a lot, because again, there were no budget airlines and trains were cheaper. Buses were slightly cheaper too but I like trains a lot more as I can read, tune out and not feel too nervous.
Well, trains are romantic of course.
Not so much romantic, but safer. Too many accidents on those expressways! And I always loved train stations. When I found out that the Tanjong Pagar Railway Station was going to be closed, I knew I wanted to do something there. It was 3 days before the station stopped functioning so I worked with Tiffany, a photographer and ex-student of mine. I had the outfit of my mother in the photograph replicated, and I chose to add colours to the outfits as I saw fit. In a way, it was as though I 'hand-tinted' colours into a black and white photograph and into a memory. I asked Tiffany to meet me at the golden hour. I knew what needed to be done, and I knew that I would be a fish out of water because my being there would be so different. Almost everyone who was there went to shoot the architecture, and to soak up the experience. But I soaked it in enough already, I wanted to compress that moment in time. So Lulu in En passant was the embodiment of my mother, my grandmother, and myself. Three generations of women have gone through the place before it shut down. Moreover, that connection to Malaysia was present, because we were one country (prior to 1965). When I went to the station complete with a French twist and lots of hairspray, I was very focused: stand within a frame, be shot and then check the shot. I also was very aware that I was shot in passing by many others. So I went up to some of them and said, "You just take pictures of me. I'm doing this for my art project and I'm ok if you keep my images, but if you could pass me one or two of my images, that would be good." So it was an exchange again, very interactive. Quite a few people contributed their shots. Then there were a bunch of guys who were there with their Vespa club. So again I asked, "May I borrow your Vespa? You may take however many pictures you want of me and you can keep my pictures." They agreed, so we did that that swap. We enhanced the collection through that kind of exchange. I like liminal places, places that are neither public nor private, places which facilitates crossing of paths between strangers, with hotels being one. Train stations and bus terminals are others. I haven't done a fully-fleshed series on toilets, but in bathrooms where I have written things on the steamed up mirrors.
What is the spirit you want to bring to your art?
I want to have fun. I had two close shaves with death: I had hemorrhagic dengue where I bled for five days from a mosquito bite and nearly died. And then four months later, I caught a bug and I had an injured knee and it went straight to my Achilles heel, the weakest part of my body. Had I waited two more days, I could have had to amputate or could have died from blood poisoning. So because of that, those close shaves, when I do something, it has to be pleasurable. I don't believe in suffering and as it is, there's too much suffering already personally. I have to enjoy doing what I'm doing. Also, I list sex appeal as one of the materials in some of my works that relate to Love Hotel. It's always there, but it's also… how do you measure it?