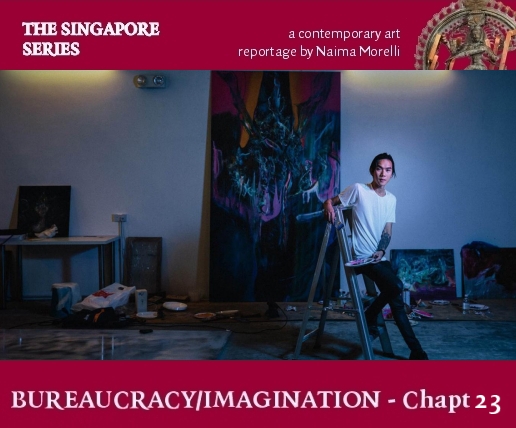 Ruben Pang
"Wait! Is it allowed to talk about incest on the Singapore metro?" I abruptly asked with an alarmed note in my voice to the scrawny guy in front of me, holding onto the bar of the red line. I looked for a reaction in the faces of the people on the metro. Nothing. Someone told me that Singaporeans don't complain to your face. In their heads though, they had probably already labelled me as a loud-speaking Italian as soon as I opened my mouth.
"We can talk about whatever we want!" replied Ruben Pang in a stubborn tone which implied than yes, it was not advisable to talk about incest on the Singapore metro, but rules didn't apply to us free-thinkers.
Ah, the fleeting camaraderie you establish for a few hours with some of the artists you interview! I really liked Ruben Pang, but I was wary. In three hours, he had already told me three times that he is a person who gets easily bored. The thing with these ultra-nice people is that they never say what they truly want. They endure boredom, endure struggles, and they act as if everything is fine. On top of that, Ruben also declared to passionately admire the stoics, especially Seneca. He finds their endurance in the face of sufferings and the fact they never complain, totally badass.
Read More