Angry Underwear by Tania Ferrier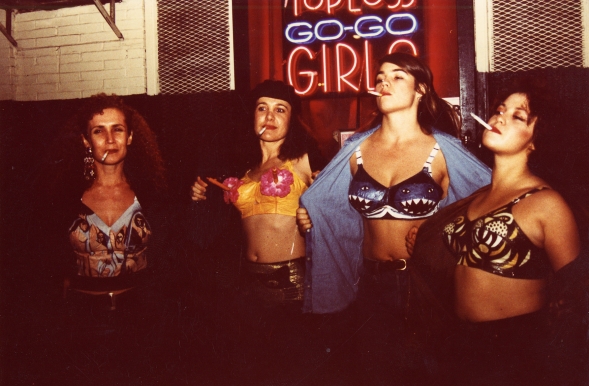 I interviewed the artist Tania Ferrier some days ago at her apartment in the grooviest side St.Kilda, Melbourne.
This versatile artist was born in Perth but travelled a lot during her life.
It was a very interesting chat for me, not only because she was able to compare the two art scenes that I'm investigating at the moment (Perth and Melbourne). The most interesting thing was indeed to see how her adventurous life is strictly connected to her artistic practice.
Waiting for her interview to be published, I want to share an aspect of her early production: the "Angry Underwear".
The story around the Angry Underwear seems to be out a Frank Miller graphic novel.
In the seventies Tania was working as clothed bartender in a Go Go Strip Club in New York.
In that period she started to make outfits for the strippers, motivated by one particular incident.
One night one of the strippers complained that the guys were grabbing at her, so Tania decided to paint for her a bra with teeth on it.
When the stripper wore the outfit onstage no one grabbed at her, but no one tipped her either.
So the girls decided to not wear that outfit onstage but they all bought the bras for themselves.
In the meantime Tania customized them painting different animals, tigers, sharks and also doing some pieces that were more close to fashion design.
People from the fashion world started being interested in it and Tania end up exhibiting her creations at a lingerie shop in Manhattan and then at the Artemis gallery in Perth.
The artistic statement of Tania is: "I do not care that the medium changes or is not high brow art for purchase. I care about making a way to engage people to contemplate the subject and possibly be awakened."
Her way of making art can be considered a reaction to social injustices that she witnessed during her life. She started making drawings in opposition of White Australian Policy of her childhood and affects on Aboriginal people. The sexist 80's lead her to an angry statement through underwear for strippers and raunchy paintings of women dancing for themselves. Racism towards Asian and black immigration in the 80's and continued apathy in regards to Aboriginal people has lead to her work in the recent years.