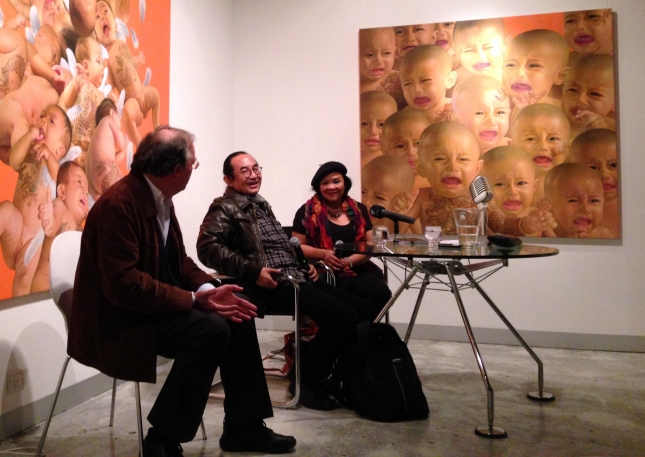 The inevitable destiny of every artists is to be know from the wide public just for a single artwork or an aspect of their more extensive production.
Duchamp is for everyone "the guy of the urinal", Damien Hirst is the chap who did the shark, Eric Clapton is Layla's ex boyfriend and so on..
If I say Haris Purnomo, what comes to your mind?
Babies with tattoos, of course.
Haris has painted babies with tattoos for almost 22 years – becoming one of the most popular Indonesian artists in the meantime.
The last solo show of Haris Purnomo "Beyond the Mirror Stage" at the Mifa gallery in Melbourne, Australia, has just finished.
The day of the finissage – you say "finissage" only in Italy and France, what a ridiculous name for "closing"! – the gallery Mifa decided to host a talk with the artist.
It was an interesting talk of 45 minutes with the SBS radio presenter Sri Dean and with frequent interventions from the public. The discussion was focused on the symbols used by the artist and his way of working.
Read More