Sedulur Gamelan/Gamelan Sisters at National Gallery of Victoria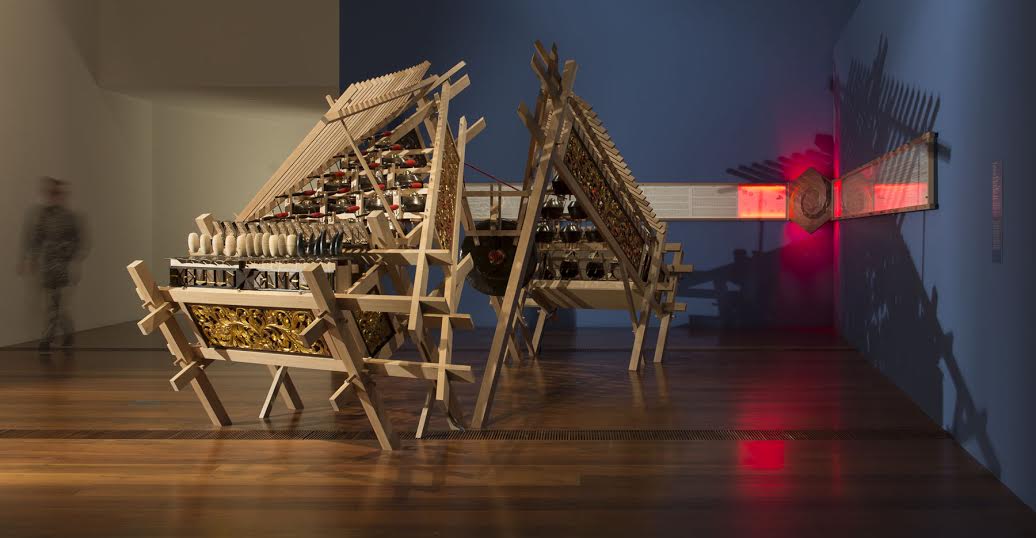 What the National Gallery of Victoria is trying to do with the Melbourne Now exhibition is to define the identity of Melbourne through its cultural practices, with a special focus on contemporary art.
I'm in Italy now, ironically writing my book about emerging artists in Melbourne, so I couldn't visit the exhibition. Luckily my Australian friends and the artists that I have interviewed always keep me updated.
Some time ago I got a mail from artist Danius Kesminas, who told me about his new project with Slave Pianos for Melbourne Now, called Gamelan sisters (Sedulur gamelan). I posted some images, which gives you the feeling of this evocative machinery. On Slave Pianos' website I find more information about it:
"Sedulur Gamelan (Gamelan Sisters) consists of two interlocking wooden structures that reconfigure elements of traditional Javanese architecture through the De Stijl philosophical principles of neoplasticism to create an abstraction of an 18th century double grand piano.
These two cases house 56 traditional Gamelan instruments from Yogyakarta that have been automated to function as a self-governing electro-mechanical orchestra, performing musical transcriptions of drawings by American artist Robert Smithson. The work examines parallels and intersections between ancient Javanese mystical systems, the musical structures that traditionally articulated these, and the derivations and misconstruals of colonial European & post-colonial American visitors.Visitors can select works to be performed by pressing the gilded triangles on the hexagonal console, which references Smithson's 1968 sculpture Gyrostasis."
Slave Pianos is composed by Rohan Drape, Neil Kelly, Antanas Kesminas, Danius Kesminas, David Nelson, Michael Stevenson.
The show will be from the 22nd of November 2013 to the 23rd of March 2014 at the National Gallery of Victoria.
You can see the whole process of building the work on Slave Pianos' website.