Q&A with Muchlis Fachri

Muchlis Fachri is a young artist based in Jakarta, who is also part of the street artist's crew called TAS – TAS and the artistic collective Aspaleho. We found each other on Facebook and I was amused by his cartoonish and ironically splatter style, with many references to punk aesthetics and popular culture.
Muchlis explained me that he wants to make art accessible to people. I find this conception resonating very strongly with young Indonesian artist in particular (I remember talking about that a couple of years ago with Agung Kurniawan of Kedai Kebun Forum, one of the first galleries to push forward the idea of accessible art, right in the middle of the painting boom in Yogyakarta).
With his practice Muchlis embodies this democratic idea of art, alternating his graffiti practice with conventional painting and the production of merchandise. Indeed, together with his girlfriend Puji Lestari, he also founded the company JUNK NOT DEAD, producing a range of edgy and offbeat products, from posters to bags and dolls – the patches are definitely on my shopping list next time I'll pass by Jakarta. With a pulp and excessive imaginary, Muchlis Fachri's art is definitely an artist to keep an eye on.
Did you have a moment when you knew you wanted to be an artist?
I did actually. In senior high school, I would often made unusual things that were different from the ones of the other students, like bags made of a cardboard or I'd decorate my sneakers with drawings. During my third year I visited an exhibition in the Galeri Nasional and I was stroked by the art exhibited – that show has been fundamental to arouse my interest in painting. When I came back home from the exhibition I was so excited that I started painting on canvases and researching about artists.
How is living in Jakarta for a young artist?
I'm still a student at the Jakarta's State University. In this university you learn about how to be an art teacher, rather than how to become an artist. Almost all of my lecturers don't support students wanting to make art for a living, pointing out that they won't make any money by being artists. Sometimes I feel disappointed with my school, but overall I think it's helpful. People say the place to be for an artist is Yogyakarta. There are many artists over there that use their art for social purposes. The drawback of living in Yogya is that there is also a lot of competition, which is something we don't really have here in Jakarta. I'm personally happy to live here. Jakarta has certainly many problems. It's a though city where violence and vandalism are very frequent and traffic in the norm. Small troubles can become huge troubles in this city, since people in Jakarta tend to be hot headed.
But I'm born here, I grew up here. It's constant challenge to live in this metropolis, but I feel that if there is city I have to succeed in, it would be Jakarta. Everybody must have a big dream, but without working towards it the dream is worth nothing.
My habits and my own life experiences, good or bad, are heavily influenced by the fact of living in Jakarta, and the circumstances I face every day. For example, I take half an hour to go to Uni by motorcycle, thought my house is very close to the school. That's because the insane traffic, and that makes really difficult to carry big canvases to the campus. On a busy day you would really feel oppressed by this city.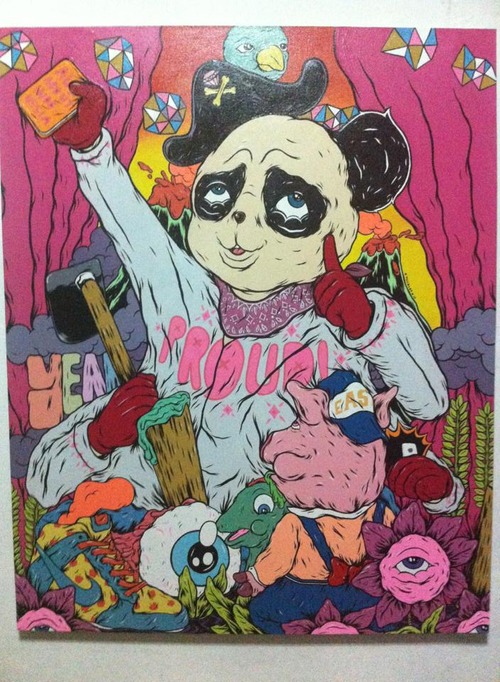 How often do you make art ?
When I started Uni I was doing a lot of drawings with china ink. Every day I would have my sheet of paper full of ink in front of me. This orderliness is part of my creative process when I made an artwork, and I brought that with me when I moved to painting, collage, vector and merchandise.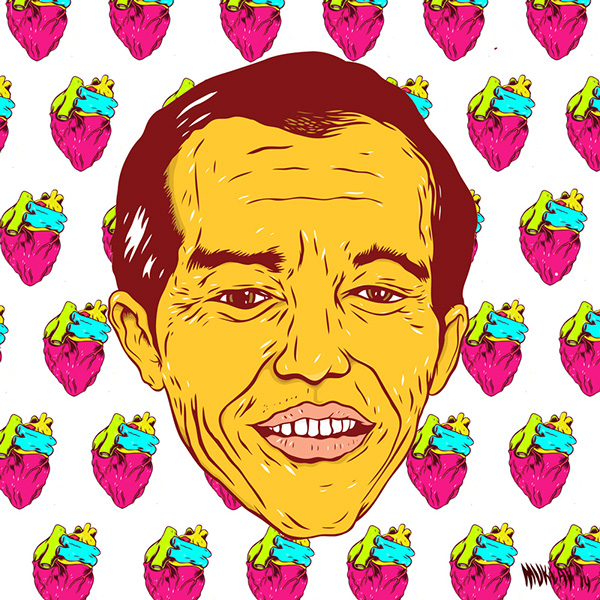 Considering that you work across different techniques, does your way of working changes according to the medium?
Not at all. Although I work with very different media, like mural, painting, vector, collage, I have always the same way of working in terms of idea, style, colour and composition. Obviously when I work at a mural or at a graffiti piece with my crew, I have to take their own way of working into account.
You told me that in Jakarta the two major art tendencies are street art or conceptual art. Why did you choose street art rather than the conceptual?
I'm more drawn to the aesthetic aspect of art, that's why I choose street art and fine art.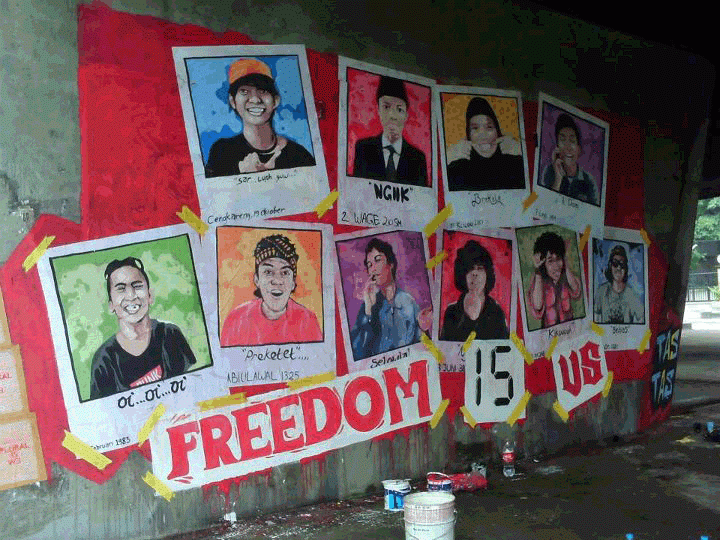 Street art is illegal in Jakarta. Is it dangerous to do graffiti or there are some safe places?
Not necessarily, but we have to make street art in hidden places or in our college. The important thing about street art is to document it.
How did you crew formed? Were you guys all friends already before starting with graffiti?
I have two crews that formed around the same time. TAS – TAS is my first community which aims to push street art forward in Jakarta. TAS – TAS usually created a huge wheatpastes and paste them on walls. The other collective is Aspaleho formed by five talented artists from my Uni, Dolby Biba Sakula (@dolbybyba), Adi Setiawan (@dhigel23), Dhado Wacky (@dhado_wacky), Gema Septian (@gemsseptian), and I. We have the same style but a different way of doing things. Sometimes do murals, other times we collaborate in collective artworks.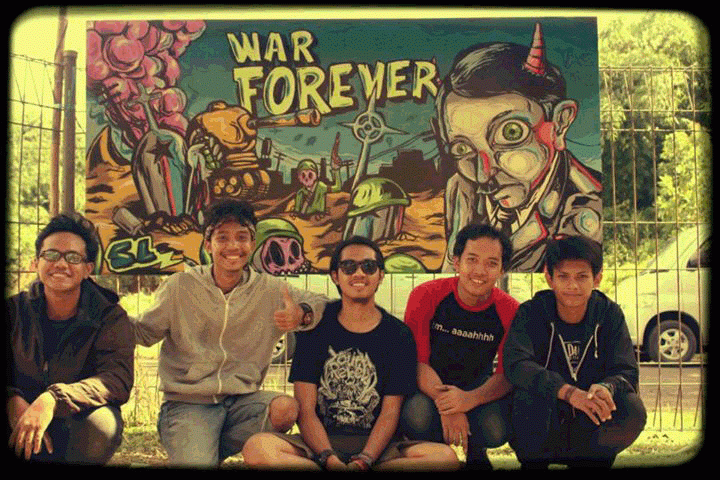 Can you tell me a little bit about your company JUNK NOT DEAD?
Yes, of course. JUNK NOT DEAD (junknotdead_id) is a merchandise company founded by my girlfriend Puji Lestari (@ijupacups) and I. She's very good at sewing, stitching, and embroiling and she realizes her own art pieces through these techniques. Our products are realized collaboratively. I paint my stuff and then she does the stitching part.
On JUNK NOT DEAD's website we read that you're interested in lowbrow culture filled with responsible freedom, in which an artist is not just making work to be exhibited and collected but with an impact on people's lives. Do you think you share this need with other artists of your generation in Indonesia?
Yes, I have been inspired by many artists in Indonesia and also abroad. Many young artists nowadays work between high brow and low brow art. They might do traditional painting on canvas but also screen print their artwork to make merchandise or handmade objects. That's good for the people who love their artwork but couldn't afford an original. Their can buy the artists tees, postcard, patch, etc.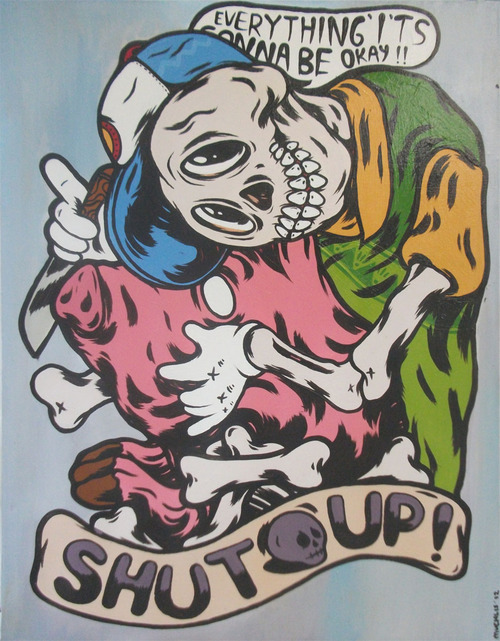 Do you have personal taboos in your art?
No, every artwork of mine aims to be real, recounting my life in all its aspect.
Is the community in Jakarta supportive of young artists?
Yes, for the most part. In Jakarta and in Indonesia communities are supportive of the young artists because they are coming up with fresh ideas and wild and sexy art.
What are your next projects?
I haven't any big project at the moment, I'm just trying to be consistent in making my art and stay true. I want to continue to grow my company JUNK NOT DEAD, which is where I make a living from. I'm also having a lot of momentum in street art with my teams, TAS – TAS and Berandal Aspaleho. I'm planning to see more exhibitions in Jakarta, Bandung, and Yogya. Hopefully I will have the chance to show my work in other cities in Indonesia and in Asia.