Published! Interview with Eddie Hara on CoBo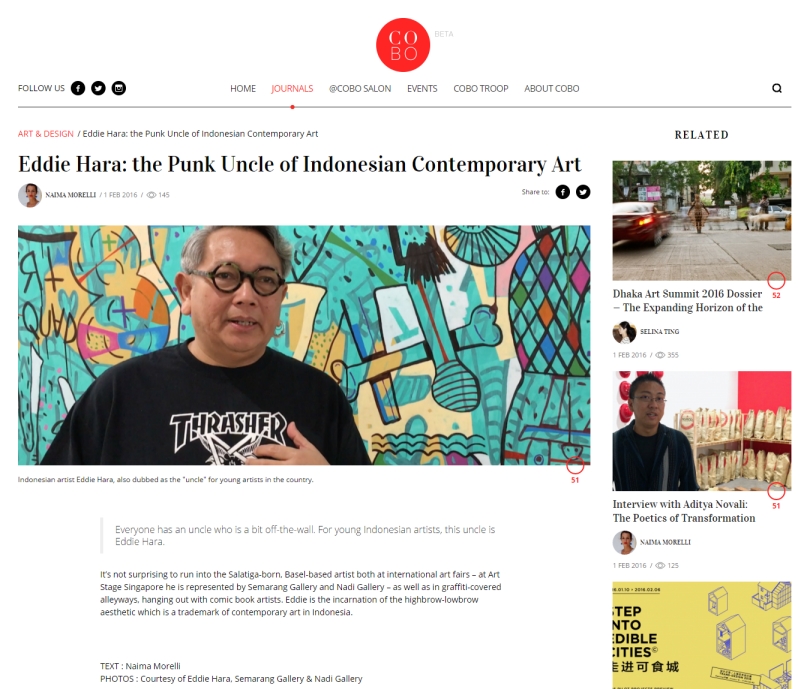 I'm happy to announce my new collaboration with CoBo as a writer on Indonesian contemporary art. Cobo is an Hong Kong-based  webmagazine and dynamic community platform – bilingual English and Chinese – with the image of the collector at its core and a focus on contemporary art, especially from Asia-Pacific area.
My first piece for CoBo is an interview with the Basel-based Indonesian artist Eddie Hara, a great friend and a badass artist, who was represented by two galleries at Art Stage Singapore. Eddie Hara is known in the art world for his irreverence and playfulness and his painting style is extremely popular among the younger generation of Indonesian artists. Thus I decided to title the piece "the Punk Uncle of Indonesian Contemporary Art".
In the interview Eddie Hara opens up about the decision that compelled him to move to Switzerland. He also recalls his decision – radical at the time – to study art, consequentially facing his family's opposition. He talks about the comrades from the early days, who are now big names in the art world. From Heri Dono "he knows everything about my life", to Mella Jaarsma and Nindityo Adipurnomo.
Here's the link to the piece

_