Palazzo Riso, The Contemporary Art Museum of Palermo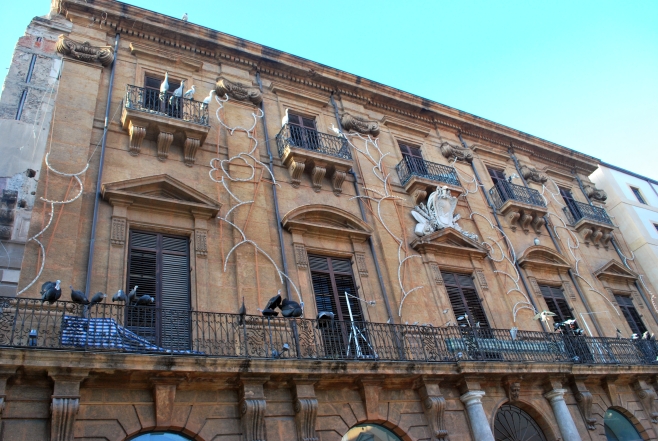 In October I went to Sicily for the first time and I didn't miss the opportunity to visit the stunning Palermo.
I had two wonderful guides to show me around, Maria Rita Mastropaolo, writer for the web magazine Prisky (link), and Ciro Cangialosi, an incredible comic books artist (link).
We visited Palazzo Riso, an ancient building turned into Contemporary Art Museum, which displayed works by the most important contemporary Sicilian artist, like Carla Accardi, Pietro Consagra, Salvo, Antonio Sanfilippo, Emilio Isgro' and also younger Sicilian artists such as Croce Taravella, Alessandro Bazan and Laboratorio Saccardi.
There was a Boltanski's exhibition going on that was quite impressive. It was related to memory and in some way to a profound sensation of human tragedy, like most  of his work. The clothes hanging from the wall and surrounded by lights seemed to be presences that were no more into the body, but they were flowing around what was left of the body itself. 
At the same time the bulbs were related to those who can be found around the actresses mirrors in their dressing room. Were Boltanski's clothes like mirrors?
Actually the difference between the reflection in the mirror and a fleeting shadow or a ghost is very blurred.
Entering the last floor of Palazzo Riso was like falling in the rabbit hole. The artist Kounellis decided to turn everything upside down, putting cupboards and closet on the ceiling. The space was also very interesting. There were two wide rooms without panels covering the ancient scraped walls.
If you're passing by Palermo, Palazzo Riso definitely worth a visit.